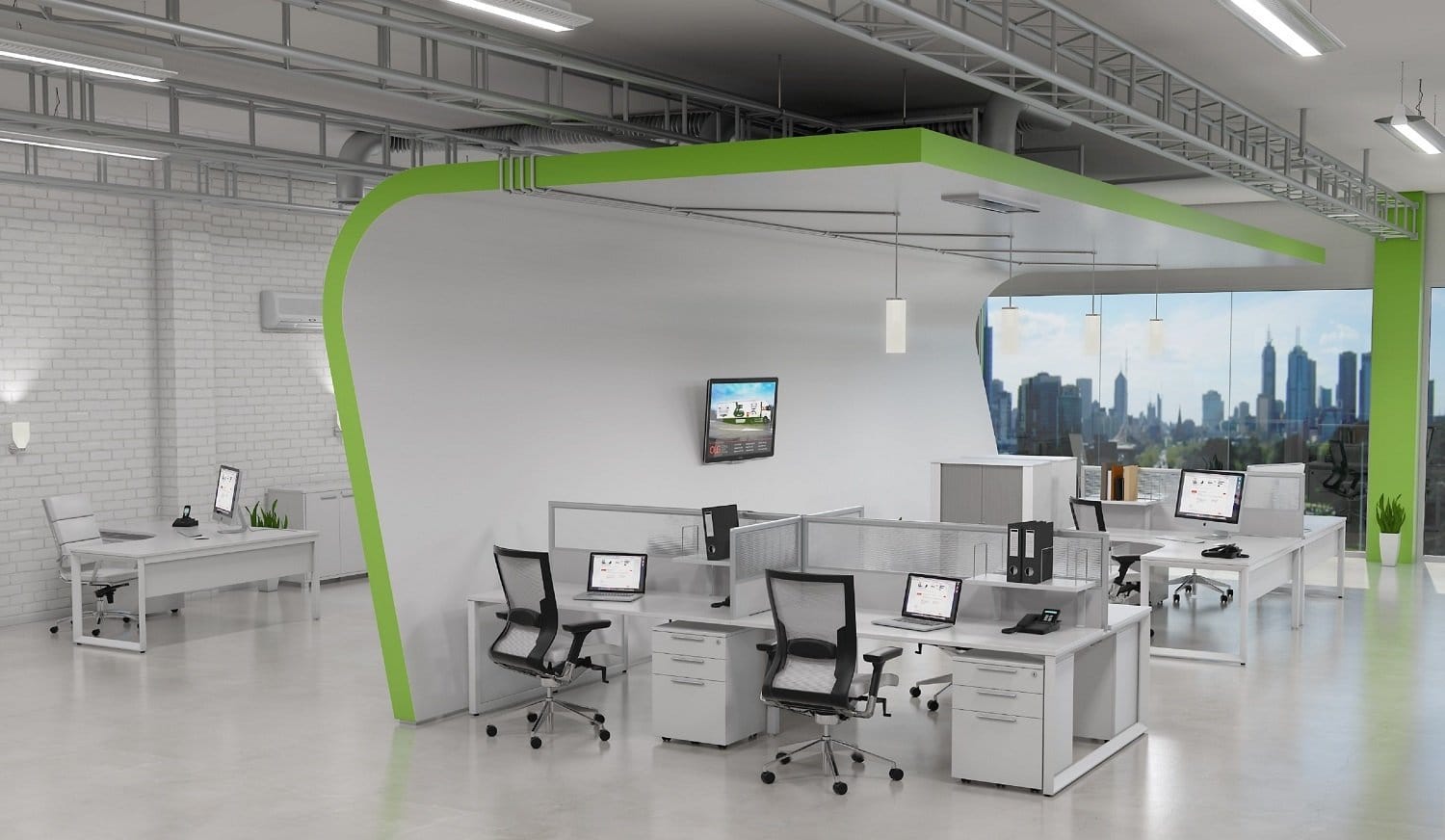 Inspirations
Product: Avenger Mars Loop Leg Pod Systems
Goal: The Brief was simple: We want our office to look Clinical, Modern and Clean… Think Space Station!
The Avenger Mars Loop Leg is the latest in modern Office furniture adaptations. With a funky look and clean lines, the Avenger Mars Loop Leg embodies form and function and does it with a contemporary elegance!
Double desks with shared Loop legs were the ideal choice for the space with a 4 pod complimenting the 2 Corner workstations for this department. Desk mounted screens with transparent panels were chosen to individualize each workstation, allowing for a light open feel that resonated the modern look the client was after. Contact Danny's Desks and Chairs to fit out your next space station!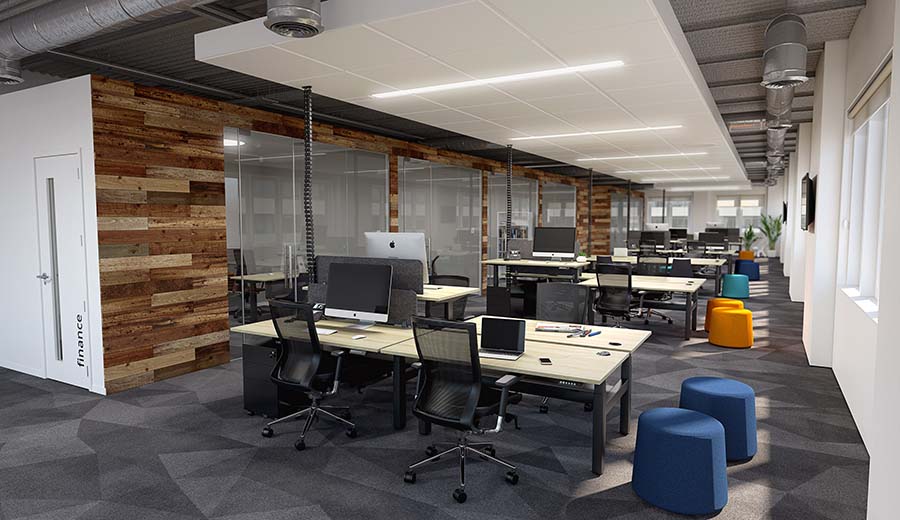 Product: Windsor Height adjustable double desks
Goal: To fit a goal number of height adjustable desks into an area while retaining an open feel and not looking like a lot of desks pushed together.
A lot of offices are plagued with tight area's that are hard to fit out without wasting space or feeling like the furniture is crammed in. Enter the Windsor Electric Height Adjustable Double Desk with its back to back pod design solving the space issue while still offering height adjustability without a sea of legs. The shared leg system looks neat and clean and when coupled with a soft wiring system the result is very elegant! It is proven that happy employees are more efficient at their work, The Windsor offers your employees different ways to go about their work and the flexibility to choose how they wish to work and find their happy spot, sitting or standing!
We love using lighter coloured tops to lift and brighten up a room especially if the area is little on the smaller side. Here we used Maple tops that contrast beautifully against the dark Windsor desk base. Ottomans offer a small, easily moveable seating option for the quick desk side meeting or brainstorming session and the touch of splash colour just gives the room a subtle vibrant lift!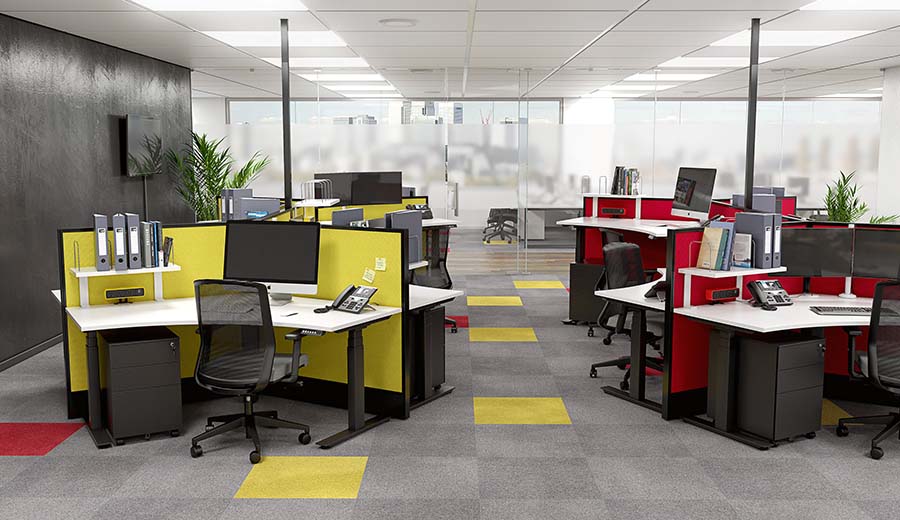 Product: 120 Degree Pod Systems with Full Height Screens
Goal: To create functional individual workspaces allowing communication between pods with cool style and colour options.
With general pod options offering either a straight desks or corner workstations, 120 Degree pods offer the best of both worlds with a smaller footprint than corner workstations and extra desk space than a straight desk…. And they just look cool!
The use of spot colours in the screens contrast beautifully with the Black frames while the white desk tops lighten up the space. Another key feature of this product is the use of Height adjustable desks offering people more versatility in the way they work. The electric height adjustable desks are fed via a power pole from the ceiling into the pods delivering power and data requirements to each workstation without any cables on the ground or in the way. Seamless functionality!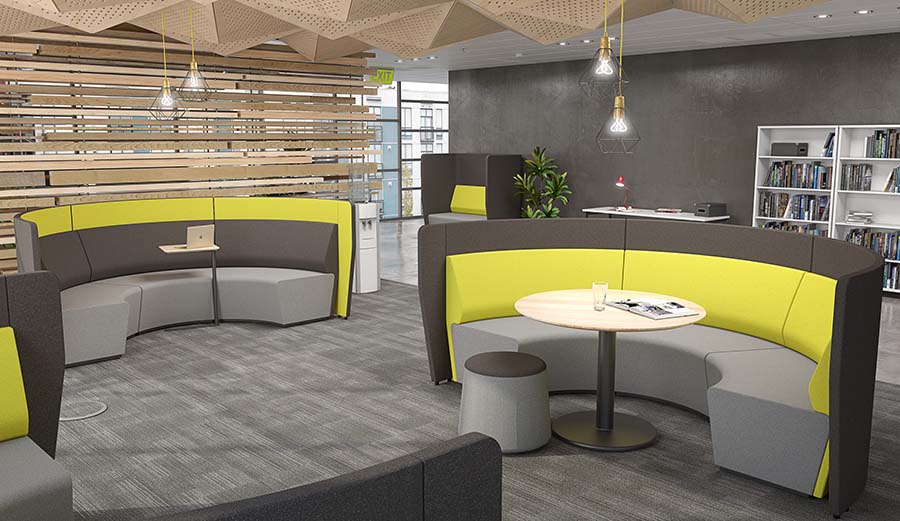 Product: Flow Flexible Furniture
Goal: To create a functional, fun, funky waiting lounge area, something cooler than fonzie!
When you think of booth seating you mind wanders to the 1950's, milk bars, chocolate milkshakes and the Fonz! Roll forward 7 decades and we have the very modern and stylish Flow seating system. The Flow seating system was chosen here for its funky look and modular capabilities, lending itself to being moved, reconfigured as the business changes. The curves edges flow beautifully and the colour options stand out and look stunning! Flow Seating system, the perfect choice for waiting rooms, receptions and break out area's. Sorry Fonzie, it doesn't come in denim or black leather!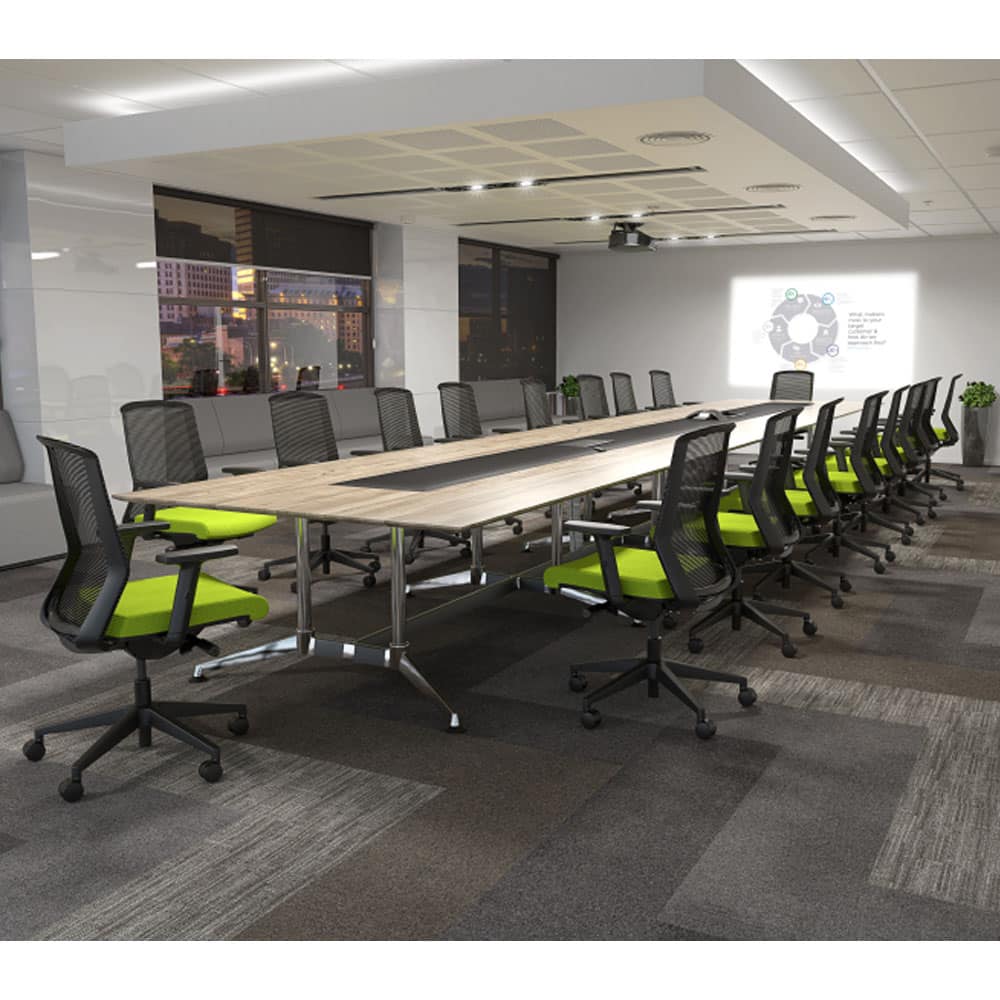 Product: Tulsa Boardroom table
Goal: Client needed a Boardroom table that could comfortably accommodate upto 20 people, look modern and stylish and have access to power and data through a drop in box. Sure!
With this particular boardroom the secret was in the choice of chair type and colour to enhance the modern look, the use of lime green creates a subtle stunning lift to the natural hues in the table!
The table itself is a combination of quality components via a polished Steel frame and a beautiful custom laminate top which breaks away from the typical Timber looks that are widely used. The black Vinyl Insert adds a stunning contrast to the timber laminate and conceals the Black Power and Data box.
The end result is Furniture with form and function, and looks pretty cool!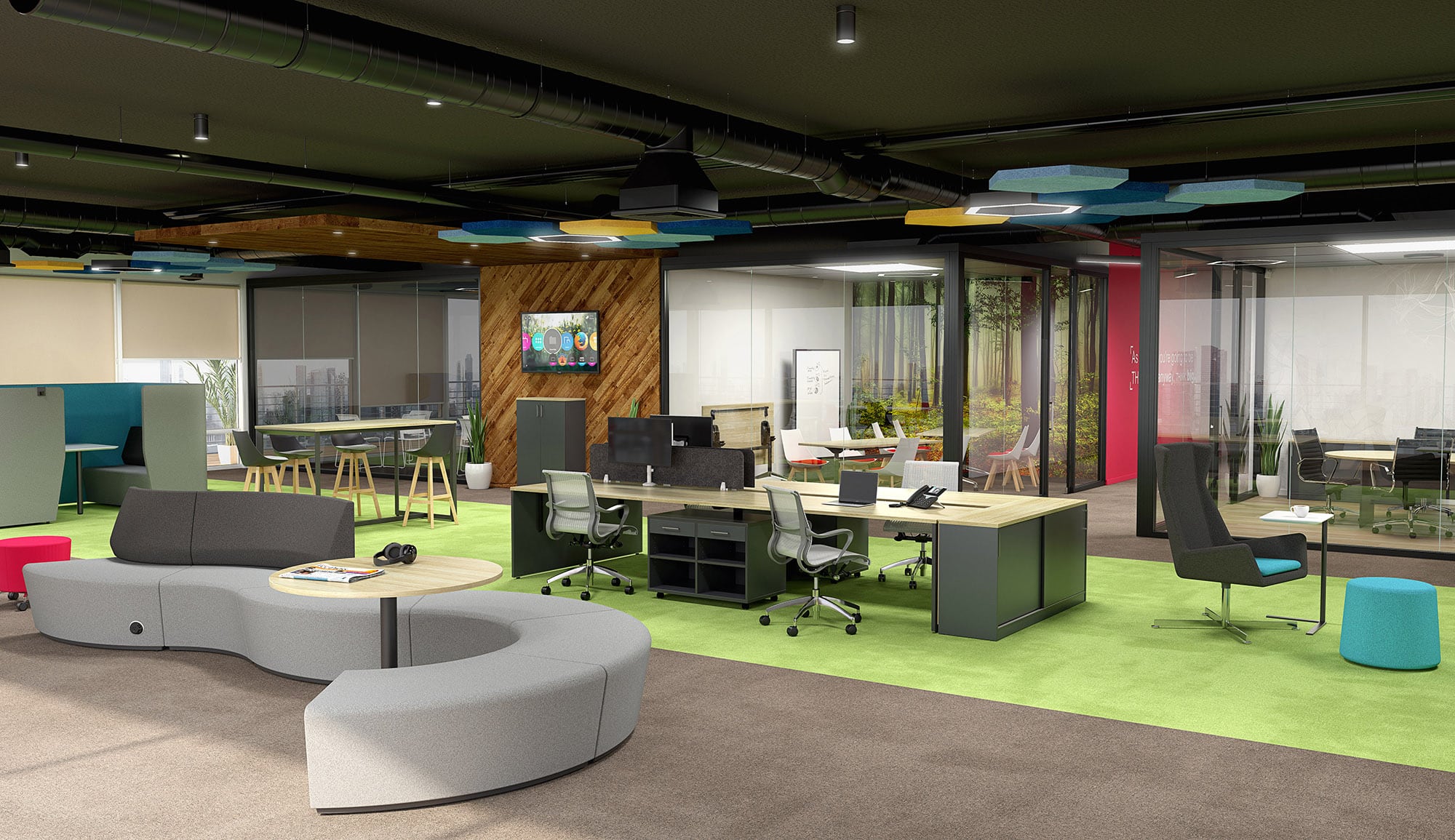 Product: Amazon Desk pods
Goal: To Create a layout that could handle the diversity of needs in the office with compromising the overall look and ambience.
Some office layouts require areas where visual and auditory privacy are important aspects however office space doesn't always accommodate the luxury of Individual offices. This is where Full height screening options can create optimally spaced workspaces that offer a barrier to sensitive information and still maximize the available square meterage in the office.
And then other area's can require collaborative workspaces allowing people to work closely and share idea's and information to aid their work output. In these instances, we look to open desk pods with lower center screens that still offer an individual sense of space while not impacting the ability to communicate openly.
When you have a mixture of both needs as we did with this brief it becomes essential to find a product that blends in ascetics across the range maintaining the desired look. In this case we used light colour timber grains on the desk top with darker Charcoals in the bases for a tonal tie in with the greys in the carpet. The screens were a chance to offer a splash of vibrancy through Red and Green fabrics, and the light blue in the seating compliments in tone. Finally, the green wall offers a fresh feel to the office and is a feature piece adjacent to the communal Bar Height Bench.
Product: Bar Height Tables/Benches
Goal: Multi use sit/stand area for small collaborative meetings, Brainstorming or somewhere to have lunch.
The Bar Table has been in Vogue for the past couple of years now, largely due to its form and function. It is the Perfect spot for Harry and Sally to quickly stand up at for 2 minutes while they crunch some detail on a plan, Jessie to call a quick team meeting with her sales team to discuss the specifics of next months targets or just a nice spot for Joe to unwind with his headphones on listening to Kanye, while polishing off last nights left over spaghetti and Meatballs……Well maybe not Kanye, but you get the drift!
I guess the space has an informal feel when compared to the stature of the boardroom, and the generally these bar height benches are in common area's which gives these spaces a more relaxed atmosphere than your traditional long table with 4 walls and a door. You end up with a vibe that becomes creative, innovative, collaborative and Covered in Joe's left over Spaghetti. And then after lunch we are just a quick spray and wipe and back into business!
From a design angle these benches are available in black or White bases and the tops can tie in with your desks to help keep in with the aesthetics.
Bar Height Benches, Perfect for Meetings & Meatballs!